Commercial Door Services
Here you will find many examples of the types of commercial doors we install, service and repair. For more information, please contact us and we can help you with any commercial door project you need to get done.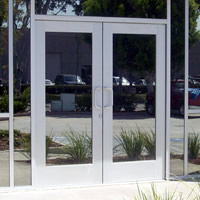 Aluminum Doors
Installing an aluminum door can help reduce your utility costs as well as increase your security. There are many options availablefor Aluminum doors, from simple doors to elegant and high-end doors, all of which can be created in just about any color you can imagine. Using an aluminum style door has a number of benefits, including superior strength and stability. In addition, doors made from aluminum also offer easier upkeep and maintenance.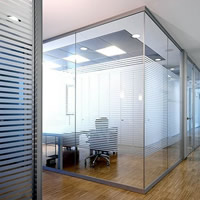 Glass Doors
Glass Doors have a number of advantages for commercial locations. Glass exterior doors provide an appealing, attractive entrance with the added benefits of improved energy efficiencies from natural lighting. Glass interior doors create an open work atmosphere where the productivity of employees can be viewed whether doors are open or closed. Glass doors come in many forms and can be customized to create a one-of-a-kind, lasting impression.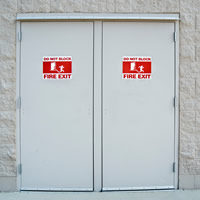 Steel Doors
Steel Doors have become a common choice, recognized for superior security benefits as well as their insulation factor. Steel doors are also inexpensive, low maintenance and come in a large variety of styles and colors to offer endless options for attractive appearances. Whether you are looking for a modern stainless steel appearance, a vibrant colored finish, or even a faux finish, steel's versatility allows it to satisfy the aesthetic requirements of most projects.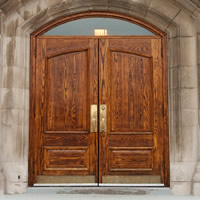 Wood Doors
Wood doors can set your office apart, are durable and can increase the value of a property. Wood doors can be appropriate for both interior and exterior use. They can be made from a wide variety of different kinds of wood including oak, alder, mahogany, cedar and pine. Wood Doors can be glazed in different shades to compliment the structure they will be part of. You can alsochoose wood doors that have glass panels or have been engraved in a decorative fashion.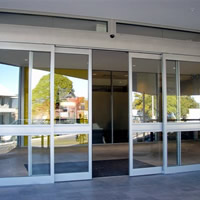 Automatic Doors
When a customer comes to your establishment, and an entrance opens for them, they feel welcomed. Automatic sliding doors make it easier for everyone to get in and out of your building. Customers may be carrying bags or pushing a cart, or they may be handicapped. Some automatic doors have pressure sensors, infrared sensors, or more advanced options such as continuous rotation, revolving automatic entry systems that hospitals and major hotels use.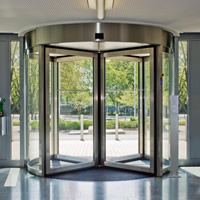 Revolving Doors
Revolving doors come in a variety of styles and sizes and have many benefits. They eliminate large volumes of air penetrating through your building entrance. The airlock effectively keeps warm or cold air in. They add architectural interest to any building project. They also allow floor space near your business entrance to be used. All of which make them great for retail stores, restaurant or hotels where large amounts of foot traffic are moving in and out.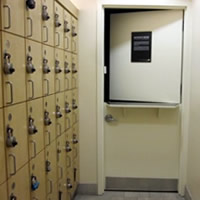 Unique & Special Doors
Due to the very nature of the buildings, commercial exterior doors sometimes need to offer a more customized solutions. The interior and exterior doors on your commercial property aren't limited to standard design offerings. Doorologist offers unique and special decorative doors that can set your business apart and reflect the look of your overall architectural design. You can choose a design or let us create a unique design custom fit for your business.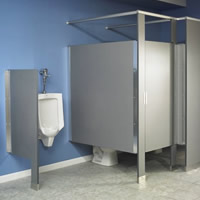 Bathroom Partitions & Stalls
Bathroom partitions and stalls provide privacy for restroom patrons and serve as a mount for required hygiene accessories. Doorologist offers bathroom partitions and stalls that meet the highest commercial use durability standards. . Our selection of bathroom stalls include all available materials, styles and colors, including corner units and wall to wall units in steel baked enamel, solid plastic, plastic laminate, phenolic and stainless steel.