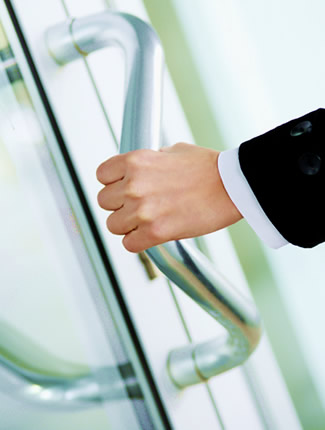 Open the door to your future as a Doorologist™ franchisee.
Getting Started
Here's how you can get your Doorologist™ franchise underway:
Review the Doorologist™ Franchise Program Thoroughly
After you've carefully reviewed all of the materials, be sure to contact us with any questions you may have. Feel free to call and ask for a representative of our Franchise Department.
Complete and Return your Doorologist™ Franchise Application
Fill in and return your "Confidential Franchise Application." This does not obligate you in any way. However, it does indicate your level of interest in our franchise program and allows us to review your qualifications.
Visit Doorologist™
After we have thoroughly reviewed your qualifications we'll contact you to address any questions you may have. We will also discuss arrangements for you to visit with us in Huntington, New York. We're located approximately 30 miles east of New York City on Long Island. This visit will allow you to view existing Doorologist™ operations and meet the key people who will be providing training and support.
Review Our Franchise Disclosure Document
Prior to or during your visit to Doorologist™, we'll provide you with our Franchise Disclosure Document, which includes the Franchise Agreement. You'll have the opportunity to read these documents and discuss with your attorney. We'll be available to answer any questions you may have.